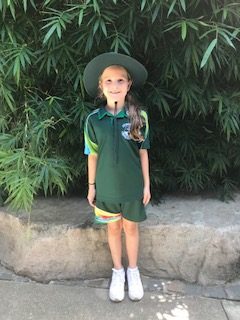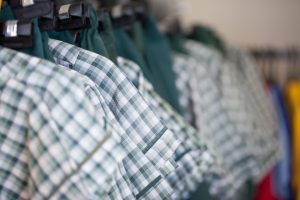 The following is the required school uniform:
Prep Uniform
Sports Shirt (available from Uniform Link)
Wednesdays our Preppies wear a special 'Little Learners' shirt which is given to them at the beginning of the year
Bottle Green Skorts/Shorts (girls)
Bottle Green Shorts (not Sports Shorts) (boys)
Bottle Green Socks, Black Shoes with Velcro
Gold Prep School Hat (available only from the SFX Uniform Shop)
Boy's Day Uniform
Square leg, bottle green shorts
Light green shirt with bottle green collar and pocket trim
Girl's Day Uniform
Checked dress or checked blouse and green skort
Sport's Uniform (Boys and Girls)
Bottle green shorts with mosaic panel insert on one leg
St Francis Xavier's sports shirt.
Footwear (Boys and Girls)
Day Uniform: black shoes must have laces or velcro, bottle green socks or brown/black flat sandals
Sport's Uniform: predominantly white joggers must have laces or velcro with white socks, and to be worn only on allocated Sports Day.
Accessories (Boys and Girls)
Bottle green jumper
Wide brimmed bottle green wide brim school hat
Bottle green school bag (only available from our P&F uniform store)
Uniform requirements are available at: St Francis Xavier's P&F Second Hand Uniform Store, Uniform Link – McDonnell St. Manunda, and some are available from Sportscene.
Shoes
Appropriate Footwear
Inappropriate Footwear
 
 

  Boys Sport Shoe    

 
NB: Please note that canvas and slip on shoes of any type are not acceptable to wear to school at any time.
Colour House Shirts
On enrolment, children are placed in a colour house for different sport/athletic competitions throughout the year. A plain coloured polo-shirt with sleeves is required in the appropriate house colour for the school athletics carnival, cross country and other nominated events.
It is to be noted that:
As a condition of enrolment, parents agree to provide and supervise the wearing of correct school uniform. Any deviation from this should be explained in writing to the Class Teacher and/or Principal.
We are a SunSafe School and thus school hats are compulsory. Children who do not have the school hat cannot go into the sun and must sit in the undercover areas. The school's policy is 'no hat, no play.'
Sports uniforms are only to be worn on the day stipulated as the class sport's day, or if specifically requested by the teacher.
Senior shirts are only worn on the days stipulated by the class teacher.
Sport shoes, which are basically white in colour, are to be worn.
High heeled school shoes are not acceptable for day wear. The heel on the school shoe is to be a minimal height.
Apart from religious medals and watches, the only jewellery permitted is one set only of plain, simple sleepers or studs in pierced ears for the girls. Boys are not permitted to wear any earrings. A signet ring is permitted. Boxer shorts or skins are not permitted to be worn.
Hair
Wear hairstyles which are sensible and appropriate to primary school aged children (the school considers dyed or bleached hair inappropriate). Wear long hair tied back (both boys and girls) with bottle green, black, gold or white hair accessories. Gold hair accessories are acceptable when the school sports shirt is being worn. Hair accessories are available for purchase from our Uniform Store.
Our P&F Uniform Store
Our P&F Uniform Store is open on a Monday afternoons from 2:30pm – 3pm and a Friday afternoon 2:30pm – 3pm.
As the uniform shop is run by parent volunteers from our P&F association, purchases are CASH ONLY.