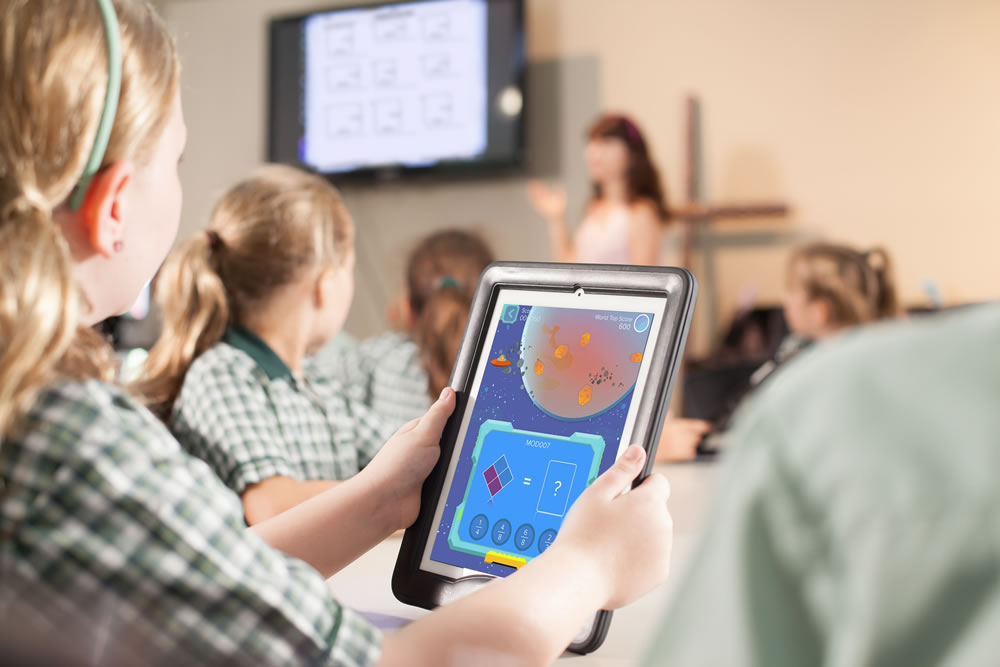 Welcome to our BYOD 'iPad' Program – Year 4 – 6
Rationale
In early 2013, St. Francis Xavier's School embraced a 1:1 technology model which began with the introduction of an iPad device into the Year 4 booklist. The purpose of this program is to encourage a community of life-long learners, to better support our student's learning journey and to provide additional ways to support development each child's God-given gifts through a learning that is deeply engaged whilst at the same time promoting their strengths, interests and talents, identifying and improving areas of weaknesses and facilitates opportunities to realise talents and strengthen their connections.
Our teachers are preparing our students for possible careers that do not currently exist. Through our iPad program we are helping our students to develop the skills they will need in the future such as creativity, critical thinking, problem solving, collaboration, and communication.
The iPad program allows the use of specific apps to better support and to meet individual needs. The program supports and encourages independent learning by offering an environment that can be self-paced and can encourage more opportunities for self-directed learning.
Our students can experience learning engagement at a more diverse range of places and spaces. The iPad program caters to a broader variety of ways for students to demonstrate their learning and understanding as they access, use, create and publish digital and online information. They are able to use this tool for reporting and evaluation as it can more diverse and allows students to promote their knowledge, strengths, interests, skills and learning journey.
This program has proven to be a very exciting project that aligns with our Schools' vision of teaching our children in a digital age and context. We believe that since its introduction, this program has been remarkably positive and successful. Here at St. Francis Xavier's we believe that the iPad is a tool of our 'times' that is useful to facilitate and manage their learning.
iPads provide an environment for our students will develop ICT skills which are age-appropriate. They will develop understandings including the acceptance of the responsibilities that come with the use of this tool and become responsible for their own personal actions and digital citizenship.
Whilst we acknowledge that it is important for our students to incorporate the tools of the times in our classrooms, we maintain our commitment to the support of each child's social, emotional and spiritual development and this commitment will always be our greatest priority.
Frequently Asked Questions
Will my child use their iPad all the time?
No. The iPad is a tool for learning that will be used along with all the other useful tools available in the home and school (e.g. pen, paper, paints, books, calculators, books, laptops etc).
Will my child use their iPad before school, after school or during lunch breaks?
No. Your child's iPad with be kept secure in the classroom during lunch and playtimes. Use of mobile devices is not permitted before or after school.
Will the iPad be secure at School?
When students arrive at school, they put their iPad in their classroom.  iPads will be left in the locked classroom during breaks.
Will my child still learn handwriting?
Yes. iPads will not replace handwriting.
Will internet access be filtered?
Yes. All internet access (email and web browsing) via our WiFi network and is routed through filters that are supplied by Catholic Education Services in the Cairns Diocese. Given the very nature of the internet, no filtering system is 100% accurate. To further support the security levels at home and at school, we encourage parents to enable the parental controls on their child's device. These settings alone are not a substitute for good supervision, but they do provide a comprehensive level of filtering and restrictions to inappropriate material.
Will iPads promote poor posture?
Poor posture and associated strain are generally the product of fixed body position for an extended period of time.  Desktop computers and laptops are just as likely to cause strain because they control posture. iPads are more mobile and light, which means they can be used with a wider variety of postures. It is easier to shift positions while remaining engaged.
Will iPads cause eye strain?
Our children and students are spending many hours absorbed in some form of entertainment media / screen time, be it television, mobile phones, MP3 players, handheld gaming units, and iPad's.
All of that time engrossed in displays of some type or another can put a tremendous strain on your vision, and may have lasting consequences for your long-term eye health.
These are some simple things you can do to prevent any lasting effects.
3 B's: Blink, Breathe, and Break. When looking at a computer or handheld digital device you tend to blink two to three times less than you normally would. This can often lead to "dry eye". That may seem like something inconsequential, but in reality–for power digital users–can lead to permanent vision damage.
The 20/20/20 Rule. While working on the computer, reading your iPad, Kindle, etc., every few minutes look at another object in the distance to allow your eyes to refocus.
Consult your Doctor. Let your eye doctor know if you are a "power user" of handheld devices. Your eye doctor may provide you with a separate lens prescription for digital devices, to lower eye strain and avoid permanent damage. One pair of glasses or one prescription may not fit all.
Monitor Lighting. Make sure you are in a well lit room, or outside. Eye strain is often a function of lighting. Glare, and low light can really hurt your eyes, and when you are looking at a digital device the back-lighting of the device combined with the room's lighting could be very detrimental.
Rules and Expectations